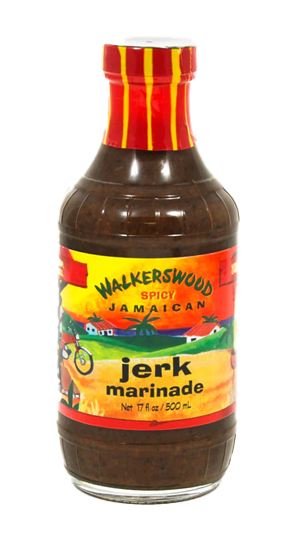 Traditional Jerk Marinade...
Has been formulated from our Jerk Seasoning as a wet rub/marinade that can be used when time is short and you need your flavor to penetrate your meats fast. Apply in a similar proportion to our Jerk Seasoning ( 1oz Jerk Marinade : 2.2 lbs / 1kg Meat) and allow to marinate for minimum half hour before cooking.
Perfect marinade for chicken wings. Let soak for minimum half hour, drain and bake in the oven or BBQ for seriously spicy Jerk Wings.
4 PORK LOIN CHOPS (1" THICK)
2 - 3oz WALKERSWOOD JERK MARINADE
Water, Scallions, Scotch Bonnet Peppers, Salt, Cane Sugar, Black Pepper, All Spice, Citric Acid, Nutmeg, Thyme Leaves
Real Jerk comes from Jamaica