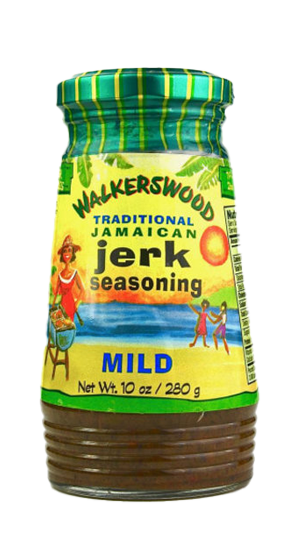 "Mild" Jerk Seasoning (Rub / Paste)...
we have tempered the Scotch Bonnet peppers in our Traditional HOT & SPICY Jerk formula to allow for a gentle spicy kiss while maintaining the true Jamaican Jerk Seasoning taste.
10oz / 280g
1 Gallon / 9.25lb / 4.2kg
5 Gallon / 50lb / 23kg
Try this Mild Jerk as a great introduction to Jamaican cuisine, designed for those who have always wanted to try us but were afraid of the heat level.
1 Whole Chicken – washed
2oz WALKERSWOOD "MILD" JERK SEASONING
1 tbs Coconut Oil (substitute w/ Olive Oil)
1 tbs Counter Flour
1 whole Onion – sliced
1 sprig Fresh Thyme
1 garlic Clove – minced
2 cups Chicken Stock or Water
scallions, scotch bonnet peppers, black pepper, salt, onion, all spice, nutmeg, cane sugar, citric acid, thyme leaves.
Real Jerk comes from Jamaica