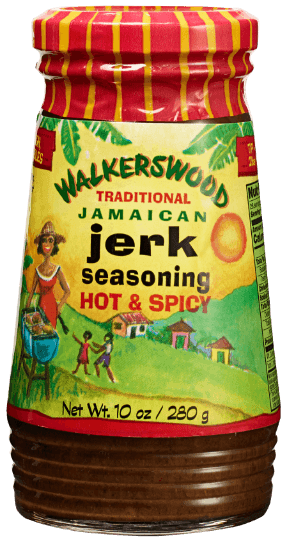 Traditional Jerk Seasoning
Is really versatile and adds a Jamaican kick to chicken, lamb, pork, fish and vegetable dishes. Simply rub a small amount - 1oz jerk seasoning: 2.2lbs / 1kg - into your meat or fish, for best results marinate overnight to absorb the spicy flavor and then cook until done on your barbeque or in your oven.

We are so proud that Walkerswood Jerk Seasoning has been included in the list of 2015 Men's Health 125 Best Foods for Men. Men's Health Magazine named Walkerswood Jerk Seasoning as the Best World Food Seasoning.

Check the complete list in the November 2015 issue of Men's Health Magazine. Or online at: http://bit.ly/1OwbTUu
10oz / 280g
1 Gallon / 9.25lb / 4.2kg
5 Gallon / 50lb / 23kg
Mix a small amount of Jerk Seasoning into mayonnaise to really spice up your hamburger and sandwiches.
1 Whole Chicken – Washed & Quartered
2oz Walkerswood Jerk Seasoning
1 Tbs Coconut Oil(substitute w/ Olive Oil)
Scallions, scotch bonnet peppers, salt, black pepper, all spice, nutmeg, citric acid, cane sugar, thyme leaves
Testimonial
It is absolutely the best Jerk Seasoning you can buy. I bought my first jar 23 years ago in Jamaica, and I still enjoy that same great taste today. Thanks for such an authentic taste of Jamaica.
Jim Efstratios
Southern California
Real Jerk comes from Jamaica